C.S. Lewis 1898 - 1998

29. november 1998 marked the centennary of the birth of C.S. Lewis.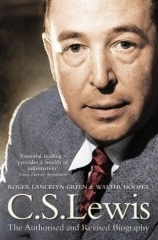 Britain's Royal Mail (to be found at http://www.royalmail.com) commemorated him (and others) on the stamp set Magical Worlds. One of the stamps depicts The Lion, the Witch and the Wardrobe.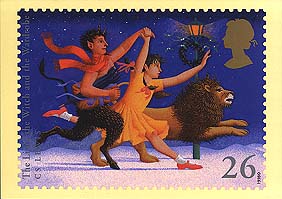 C.S. Lewis lived from 1898 till 1963. He was born in Northern Ireland, but as an adult he moved to England. Here he spent his life, as a lecturer and later a professor of Medieval and Renaissance Literature at Oxford and Cambridge.
He was a recognized authority in his own academic field, but he is perhaps even better known as author of apologetics books, and of fiction, especially his children's books The Chronicles of Narnia (with original illustrations by Pauline Baynes - we've made a collection of some of her book covers for both English and non-English editions).




Some of the Chronicles have now been released as live-action movies.

BBC has produced a radio dramatisation (by Brian Sibley) of the books, issued as "BBC Radio Collection: Chronicles of Narnia".
Andrew Skilleter has made some of the artwork for this issue, including a slipcase shaped as a wardrobe. From his website he sells a Limited Edition of his 7 Narnia Art Prints.
From Saturday 4th April until Saturday 4th July 2009 Skilleter was one of the artists featured at The Wonder of Illustration exhibition at Salisbury & South Wiltshire Museum, England (UK).



(Artwork © Andrew Skilleter - Posted with permission)



Do visit The Norwegian-Narnian Friendship Society!

Perhaps the best site generally about C.S. Lewis is Into the Wardrobe: The C. S. Lewis Web Site
which you can find at http://cslewis.drzeus.net/.





Resources in Norwegian:
Les den norske C.S. Lewis-siden min.

Si din mening på diskusjonsforumet Narnia - Oss talende dyr imellom

Movie pictures licensed from Buena Vista Pictures Distribution/Walden Media

THE CHRONICLES OF NARNIA, NARNIA,and all book titles, characters and locales original thereto are trademarks of C.S. Lewis Pte Ltd. and are used with permission. © DISNEY ENTERPRISES, INC. and WALDEN MEDIA, LLC. All rights reserved.
Other graphics credited to aks. and Pambytes Free Web Graphics